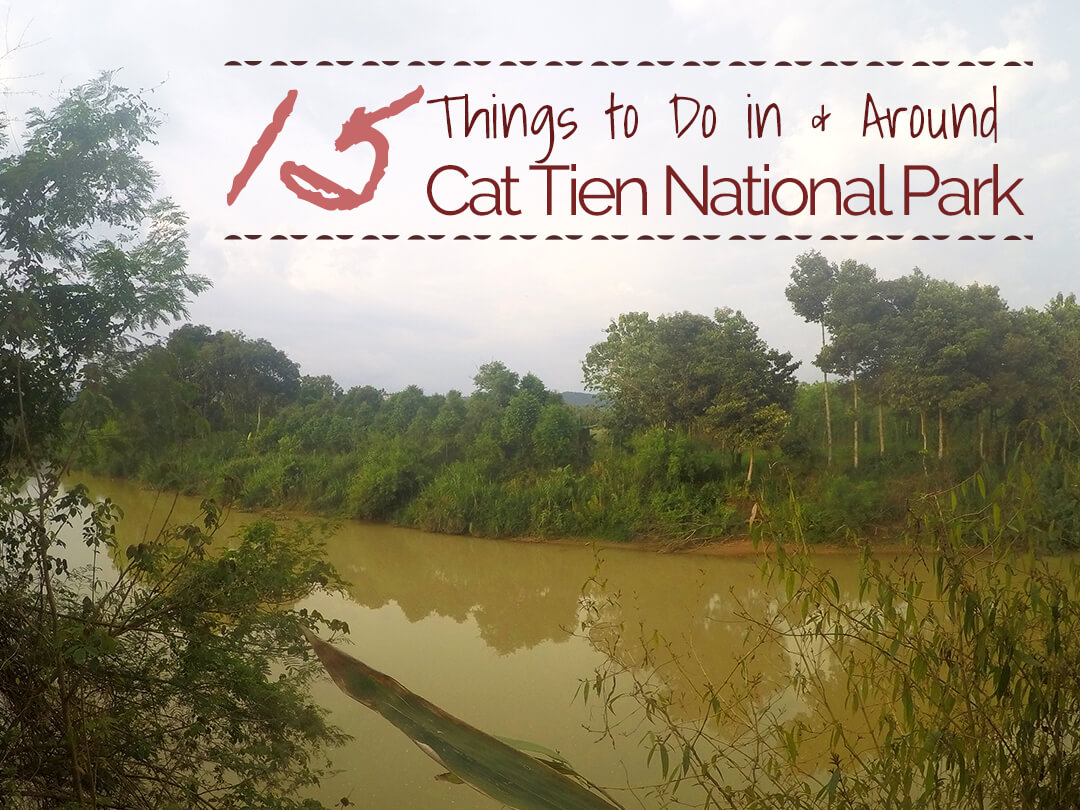 15 Things to do in & around Cat Tien National Park
If you are staying in the city of Ho Chi Minh or Dalat, or if you are motorbiking across the country, Cat Tien National Park might pop up on your radar.   Cat Tien National Park is a vast lowland tropical jungle that is a Unesco-recognized world biosphere reserve.  The vast protected reserve is 72,000 hectares and stretches over 3 provinces of Vietnam including Dong Nai, Lam Dong, and Binh Phuoc provinces.  There are 2 sections of the park.  The southern is referred to as Nam Cat Tien and northern part is referred to as Tay Cat Tien.  As most visitors go to the Southern Cat Tien National Park, this is the area we have included in our list.
Animals in the park include over 100 types of animals (some endangered) even including wild elephants, monkeys and asia sun bear to name just a few, over 400 butterflies, 350 plus rare birds not to mention the abundance of insects.  Most visitors have to be very lucky to encounter the more rare animals that call the park home.  Illegal logging and agriculture expansion are threats to the park's boundaries. Your entrance fee and donations help to provide funding to protect on of Vietnam's last tropical rain forests.  Not to mention, deforestation is one of the leading causes for animal extinction.
How to Get to Cat Tien National Park
From Ho Chi Minh to Cat Tien National Park entrance is 165km, from Dalat to Cat Tien is 192 km. From QL 20, take a left (if coming from Ho Chi Minh) on 600A and follow the road through small villages, beautiful scenery and cool winding roads for approximately 20 kms to the park entrance.
From Dalat to Cat Tien National Park follow the same QL 20 highway, and take your first right onto 600A straight to the park entrance.  On our Google maps below we have outlined 2 options.  The fastest highway route and recommended very scenic route if you are on motorbike.
Cat Tien National Park Entrance Fees
The park entrance fee is 60,000 vnd per person including the boat crossing and you can choose to rent a bicycle to explore the park, rent a park vehicle or trek.  You cannot bring you own motorbike or transportation into the park because you have to take a boat from the information desk to the park entrance.  There are also 2 onsite restaurants, Trey Vang and Cay Dau. See the photo of the fees at the info booth.  It's a bit wide angle below, gopro problems!

Accommodations at Cat Tien National Park
Inside the National Park, you can book a basic Green Cat Tien Hotel starting at 200,000vnd. There are mixed reviews on the stays at these basic accommodations, but they are affordable. Staying in the park also gets you a 30% discount on the other tours.

Outside the National Park, there are 4 main accommodation options, Cat Tien Jungle Lodge (featured in the picture above and right next door to the park entrance),  Cat Tien Farmstay, Green Bamboo Lodge (also beside the park entrance) and Forest Floor Lodge.  We chose to stay at Cat Tien Farmstay, which was approx 2 km away from the park entrance and was a really quaint and comfortable farm stay.

15 Things to Do in and Around Cat Tien National Park
From park headquarters:
For each of the below activities you can choose to do on your own or hire a guide from the park. For a half day it's 60,000vnd or 120,000 for a full day.
1. Trail Walk to Giant Tung Trees (Easy)
Time: 45-2hrs.   Approx distance 2-5km (roundtrip)  
If you are looking for a short walk into the rain forest, this trail starts about 500m from the Tourist office (i.e. towards Croc Lake direction) and offers the shortest route to explore the surrounding Cat Tien National Park. The shaded trail will lead you to a large Tung Tree, take a photo here.  If you want to do a loop, continue further and take the trail (located just behind the Tung Tree) for another 1km back to the Park Headquarters.  That way it's a wonderful loop and new scenery the whole time.  As you are in a National Park home to many species of birds and butterflies, bring a pair of binoculars.
2. Animal Sightseeing Night Safari
Time: 50 minutes.   Approx distance 8km (one way)  
Seeing some of the rarer animals in the park is not as easy as you might think.  It's very common to see some of the many hundreds of species or birds, insects, and butterflies in the park.  However if you are wanting to see Samba deer, wild pigs, porcupines, guar, weasels, civet cats, barking deers, mongoose, nightjars, owlets or bears you will want to consider a Nightlife Animal Safari. The park has a full list of all of the animals that call this place home here.
The actual active period for a great number of wildlife happens mainly at dusk and throughout the night till dawn. This is true for a large variety of amphibians, mammals, reptiles and insect species.  At night, the jungle literally comes alive in the dark and the probability of seeing animals is much higher in their most active period.  The nightlife animal safari visits their food and drinking water source where it's likely to encounter many different animals.  The best and most convenient way to see the animals is at night in their natural habitat. However, the park is not a zoo, so the sighting of animals are never guaranteed (the park is not a zoo). The night spotlighting activity is exclusively operated by the park and very affordable at 160,000vnd in addition to the park entrance fee.
3. Mountain Biking
Choose from trails surrounding the villages or the set trails in the Cat Tien National Park. For the more adventures off roaders, surrounding Nam Cat Tien you will find challenging mountain biking routes in the hillsides. The ultimate playground for the day, mountain biking through fruit orchards, undulating hills and slopes, off chambered terrain or bombing down steep downhill trails.
4. Boat to Endangered Primate Rescue Center at Dao Tien (Monkey Island)
Visiting hours: 8 am to 2 pm  Approx distance 2km (one way)
Dao Tien, Monkey Island, is a 5-minute boat ride from Cat Tien Park Headquarters.  The Island is dedicated to the rehabilitation of rescued primates and Loris from the illegal wildlife trade. The Endangered Primate Rescue Center is founded by the endangered Asian Species Trust (EAST) in collaboration with the Monkey World in UK and supported by Cat Tien National Park. Volunteers here are successful in nursing the rescued animals to good health.  The aim of this establishment is to release the primates back into the wild when fully recovered.
Foreigners are expected to pay a higher entrance ticket than the locals as a policy set by the Park. You will find this can be common while travelling in Asia at many different attractions. However your money goes directly into the rescue center's efforts.  Your visit to Dao Tien will help you learn how the environments are changing and affecting Vietnam's endangered primates.  Most establishments that rescue animals continue to care for them so this is a good opportunity to see the good hearted people who rescue and rehabilitate them back into the wild.
5. Cat Tien National Park Bear & Wildlife Rescue Station.
Visiting hours: 8 am to 4 pm  Approx distance 1 km (round trip)
Cat Tien National Park and Save the Bear and Wildlife at Risk (WAR) have established a Bear and Wildlife Rescue Station in 2008.  Located near the Park Headquarters on .5 hectares, the station houses rescued bears, both asian sun bears and moon bears, as well as other endangered animals from the wildlife trade and illegal and bear bile factories.  The rescued animals are given a change to recover, rehabilitate, and then released back into the wild. Due to trauma, poor health or bad physical condition, some animals cannot be released back into the wild so they call the Rescue Station home. You will also find other rescued animals here included a Leopard, Crocodiles, Gibbons, Lanquor Peafowl and a few other animals waiting release. Entrance fee is 150,000vnd and goes towards the maintenance of its facilities.
6. Park Headquarters to Botanical Garden
Approx time: 2 hours  Approx distance 3-7 km (round trip)
The Botanical Garden is found approx. 1 km from the Park Headquarters and houses over 300 species of plants that are found in the South-Eastern corridor of Vietnam. This oasis is a Botanist paradise and caters to plant research efforts by visiting scientists. In the area, you can find majestic red wood and hardwood trees in the vicinity that are highly south after for it's value and beauty. It's important to have Natural Park reserves like Cat Tien to house both the animals and the trees that are protected. Ride a bicycle or walk along the meandering routes of the paved pathways inside the Botanical Garden.
7. Park Headquarters to Ficus Benjamina Tree
Approx time: 1-3 hours  Approx distance 16 km (one way)
Growing out of a clear running stream, A 400 year old Ficus Benjammina Tree with a complex root system was discovered. Within a semi open area, the cool and shallow stream creates an ideal place for a picnic or to just relax after a sweaty jungle walk.  It's likely you could be the only one enjoying this jungle sanctuary as this area only sees small groups of visitors.  A wonderful place to enjoy the lush jungle's of Vietnam undisturbed and in quiet serenity. Yes, that's right, no honking.  You can rent a bicycle or rent a park vehicle to reach this area. The 16 km (one way) journey takes you through shaded canopy with a final walk of about 600 m to reach this ficus tree and crystal clear stream.
If you decide to take a dip, enjoy the massage from the little freshwater fishes coming up for a ticklish nibble on your body in return for a simple meal.  You will probably have seen this in markets, this is "the natural" way to exfoliate your skin.
8. Park Headquarters to Bat Caves
Approx time: 1-2 hours  Approx distance 9 km (one way)
Once an active volcanic zone, Cat Tien National park and its surrounding has shaped the landscape to include fertile soil, hot and cold natural springs, lava rock terrain and cave systems. Quite unlike the bright world we live in, the cave labyrinth is an interesting.  Within the cave, it's a world of total darkness, dense air, and eerie silence.  Bring along a minimum of 2 or 3 torch lights (for safety) while exploring the cave system.  The caves are home to several bat species. Listen carefully and you can head the high echo locating squeaks of the inhabitants.  You can reach Bat Cave by renting a park vehicle or bicycle.  Follow the road towards the direction of Crocodile Lake for about 9 km from the park headquarters.  It's recommended to hire a guide, as the trail leading to the cave entrance is not marked and can be easily missed.
9. Cycle/Drive or Trek to Crocodile Lake
Cycle/Drive/Trek Combo:
Approx time: 5-7 hours  Approx distance 14 km (one way)
A good workout and medium difficulty. The route includes from the headquarters a 9 km ride to the trail head of Crocodile Lake and a 5 km walk (one way) into the lake area.  To reach the lake, the trail is paved and offers a moderate walk on flattish terrain with lots of shade until you reach the vast lake. You will find majestic towering trees, bamboos, moss, mushrooms and old growth rain forest. You might even see wild animals along the trail. Some big animals can also be observed coming to the lake for a drink during dusk on the night safari. Peafowl, water birds and fishing eagles can also be found here. If you have time, give yourself a full day or an overnight trip to explore Crocodile Lake. The park charges separate entrance fees to Crocodile Lake and accommodations for the night.
Trekking:
Approx time: 8 hours  Approx distance 14 km (one way)
Instead of cycling, you can also trek 14 km the whole journey to Crocodile Lake.  The trek starts from the Cat Tien park headquarters along a fairly strenuous 14 km track under shaded jungle canopy the whole journey to Crocodile lake.  Find yourself weaving through rocky terrain, slopes and small hills under pristine rain forest.  While moving quietly through the jungle trails you might encounter gibbons, laguor, wild boars, birds and insects. In the rainy season, the high humidity, leaches and wet but cool conditions add to the jungle experience. For the trek to Crocodile Lake, due to infrequent usage you might want to consider a guide as one can easily lose sight of the marked trail, which often disappears and reappears. Make sure to bring along water, snacks, insect repellent and good walking shoes. You may co-ordinate a return journey via park vehicle same day or the following day.
10. Guided Wild Gibbon Trek
Approx time: One tour per day at 4:30 a.m.
A park tour favorite, operated by the Cat Tien National Park and for early risers this tour is operated once per day.  Get up early to join and walk through the dark forest with torches to hammock resting point.  Perched in a comfortable hammock, sit still while the forest around you wakes up for the day ahead and hear the Wild Gibbons cry.  After the sun has risen and the forest has awoken for the day, walk with your guide to find the wild gibbons and observe in their natural habitat.
Activities around Nam Cat Tien National Park Village
11. Bicycle around the Nam Cat Tien Village
Located near the Cat Tien National Park headquarters, visit the neighboring villages and farmland while you are staying close to the Cat Tien National Park.  The population is quite spread out and is a beautiful introduction to rural Vietnam.  The best way to experience the tranquil and picturesque countryside is to hop onto a bicycle and explore the village roads and lanes or ride through trails and suspended bridges around Nam Cat Tien.  Enjoy sunny smiles from village children and the village folks happy to see visitors.
12. Boat Canoe or Kayak alongside the National Park
Approx time: 60-120 minutes  Approx distance 3-8 km (one way)
Enjoy the Cat Tien National Park from the water by taking a scenic and tranquil boat ride.  Follow along the Dong Nai or Da Huoai River meandering alongside the Park's boundaries. With the village on one side and the Jungle on the other, the river forms a natural buffer zone.  Cruising down the river, observe the many birdlife activities or glimpse some wildlife along the riverbanks.  To capture those moments, bring along a pair of binoculars or zoom camera. The best time of day for a boat trip is the early morning or late afternoon. When the weather is cooler and the animals are generally more active. Boat downstream to the ethnic village of Ta Lai Village, previous inhabitants of the Cat Tien National Park.  Boating the river is seasonal due to river flow, so boat tours or renting a kayak are available during dry season only. December to June/July.
13. Bicycle to Ta Lai Ethnic Village & Dat Do
Approx time: 5 hours  Approx distance 22 km (one way)
Take a bicycle or motorbike to the local village of Ta Lai Ethnic Village.  Once inhabitants of the park, this village was moved to the outskirts for park preservation.  The route takes you 22 km one way with lots of sights to see along the way.  This ride will take you past forested tracks, open grasslands, village trails plus give you the challenge of tackling some hilly terrains.  With little traffic along the route, you will find yourself in the tranquility of rural Vietnam.  Once in the village, you might find some of the locals sitting and head weaving. The local villagers are friendly and helpful and can point you in the direction of Tai Lai Village or back to Nam Cat Tien or keep your GPS and google maps handy.
14. Trek the dormant volcano ridge of Green hill.
Approx time: 4 hours  Approx distance 6 km (one way) from Ta Lai Village
To access Green Hill you start from Ta Lai Ethnic Village, approximately 12 km away from the National Park headquarters. Green hill is a rarely visited part of the Park even through it is quite a nice trail to explore.  Start the trail behind Ta Lai Longhouse and weaves through fruit orchards and paddy fields before re-entering the jungle.  At the highest point of Green Hill, find harden, rocky outcrop providing a protective lid over the hill. You will see the difference while the surrounding areas erodes away over time. Observe the interesting usage of forest materials by the local tribes on your way back to the Ta Lai Village. A local guide is best engaged to help you trek and climb this dormant volcano ridge.
Not in the park, but also a neighboring beautiful attraction in Nam Cat Tien
15. Suoi Mo Water Park Natural Lake and Waterfall
Suoi Mo Water Park demonstrates the creativity of eco architecture with a natural lake that forms a series of waterfalls and several large swimming pools.  It's not a waterpark in the normal sense that you might think. There are no large slides or manufactured swimming pools. If you want to see a good blend between environmental architecture within a natural surroundings, Suoi Mo offers a beautiful and scenic place to explore.  Using the natural spring water from underground aquifers that burst onto the surface to form a recreation area, Suoi Mo is a wonderful oasis to cool the hot afternoon away in a natural and comfortable environment.
The entrance fee to the park is $2 for adults and $1.50 for children.  There are accommodations, café's and restaurants in and near the park so you can stop for a visit or stay for the weekend.  The park is fairly quiet during the weekdays but can be a little noisy during the weekend.
We hope this helps while planning your trip to Cat Tien National Park in Vietnam!  Comment below with your experience at Cat Tien National Park to help other viewers.
PS. If you are a new user, have you got your $20 booking.com credit or $25 AirBnB credit yet?
Other Articles you may like:
Motorbike across Vietnam in an Epic 16 Days
Add a Comment